Breaking the pheromone code:
https://www.academia.edu/11651006/Th...HeLa_Olf_cells
Androstenone
activates VN1R1, VN1R2, VN1R3, VN1R4 and maybe a touch of VN1R5!
Alpha
Androstenol
activates VN1R1, VN1R3, VN1R5, maybe a touch of VN1R2
Alpha Androsterone activates VN1R2 and VN1R4
Epiandrosterone (Beta Androsterone) activates VN1R1, VN1R5, VN1R2 a bit, +VN1R3 a bit
Hedione activates VN1R1 from another study, it is not included for this study as to what others it may activate.
Note that neither Alpha
Androstenol
nor Epiandrosterone which is more attractive to younger <25 activate VN1R4!
Androstenone
and Alpha Androsterone both activate VN1R4 which are more attractive to >25 and would explain why both of those seem to be a bit interchangable in blends. Alpha Androsterone does not activate VN1R1 and is considered less sexual of the two.
Nonanal aldehyde (c9) activates VN1R1, VN1R3, Vn1R4, VN1R5 and in the graphic in the hedione linked thread post 11 shows it is almost double on the forearm of older men. Activates VN1R4 like
androstenone
and alpha androsterone.
Decanal aldehyde (c10) activates Vn1R1, VN1R3, VN1R5. - No VN1R4 and is not found more on older people.
Do all pheromones that exist then only activate some combination of the 5 pheromone receptors? Is it just combos of C7-C11 then doing all this, these are shown to come off the body and this study shows they activate the receptors in the nose which makes them pheromones.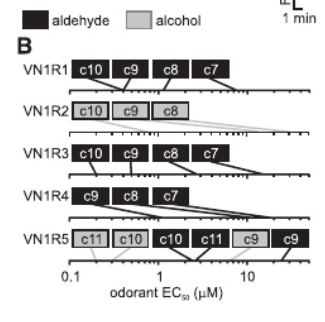 Androstadienone theoretically should activate something since studies indicate similar brain activation patterns to hedione and alpha
androstenol
. Copulins release sex homones similar to alpha
androstenol
and hedione, should that then activate VN1R1?
See this thread for more on VN1R1 that has ties to changes in sexual behavior and info on the receptors.
Hedione increases one night stands and sex behavior in women